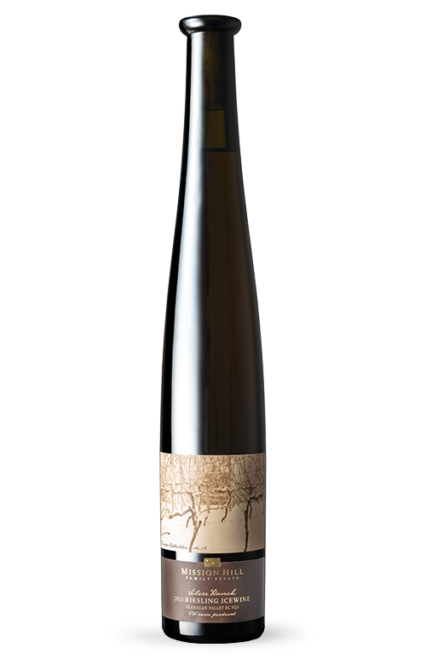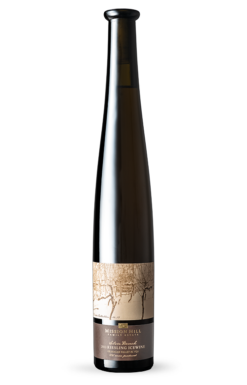 2013 Silver Ranch Riesling Icewine
Honeyed mandarin, quince, ripe apricots, and wildflower aromatics balanced with Meyer lemon acidity and an unctuous, creamy mouthfeel.
Product details
At Mission Hill Family Estate, handcrafting Icewine is definitely a labour of love considering the below freezing temperatures and early morning start to harvest the frozen grapes. The reward is immeasurable. An exceptional wine that can be enjoyed now, or cellared over the next 5-10 years.
We named this wine Silver Ranch because, depending on where one is standing in the vineyard, one can see the canal in Black Sage that, in the winter, appears silver as does Lake Okanagan. Early explorers went along trade routes that traipsed through these vineyards and often used this area for winter camps. Image No.17 is the perfect example of what our viticultural team faces when picking these grapes – vines covered in snow and ice. Their frozen nature turning into a beautiful and delicate masterpiece.
Estate | Black Sage Bench (83%) and Mission Hill Road (17%)
Elevation | 320m – 420m
Soils | Steep vineyards with a southeast aspect. Moderately coarse glacial till capped with Aeolian material that is sandy loam in texture.
Seasonal Conditions | Benefits from lake proximity.
Canopy | Vertical shoot positioned; cane pruned.
Clonal Selection | French clone 49, German clone 198
ABV | 7.5%
TA | 11.6 g/L
PH | 3.3
Download product profile
FAQs
We offer complimentary shipping across Canada, however we do not to ship to Nunavut or the Northwest Territories.
Our wines are delivered by our courier partner, ATS Healthcare, in a temperature controlled environment to ensure the highest quality product when it arrives to your door.
Our wine orders can be picked-up at the winery. We have a no-touch pick-up area at the entrance of the winery.