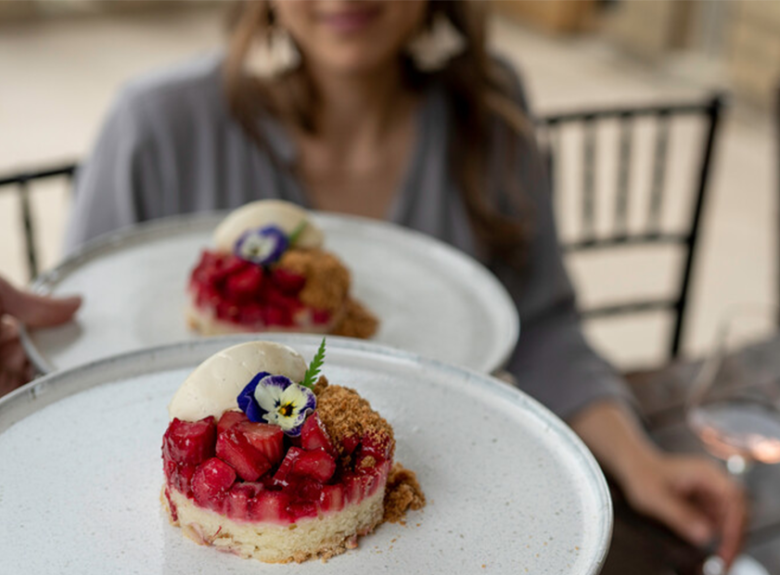 Strawberry Cake with Wild Rose & Rhubarb
Our delectable strawberry cake dessert bursting with wild rose and rhubarb was expertly paired with our new 2022 Reserve Rosé. A delicate wine that ever so graciously brings out the fruit flavours of the cake.
Yield: 8 portions
Strawberry Sponge Cake Ingredients
110g All Purpose Flour
5g Strawberry Powder
120g Sugar
5g Baking Powder
1 Whole Egg
55g Butter, melted but cooled
110g Strawberry Puree
15g Sour Cream, room temperature
Strawberry Sponge Cake Method
Preheat oven to 320F and grease an 8×8 baking pan.
In a bowl, sift dry ingredients together.
In a bowl fitted for a stand mixer, add eggs and butter together and mix to combine. Add puree and sour cream and repeat.
Whisk the dry ingredients into the wet until just combined. Pour into greased pan and bake for 10-15 minutes to spring.
Cool Completely before portioning.
Pistachio Crumble Ingredients
50g Butter, room temperature
50g Sugar
50g Flour
50g Almond Flour
15g Pistachio Paste
5g Matcha Powder
Pistachio Crumble Method
Place all ingredients in a mixing bowl. Mix on slow for 2-3 minutes until all the ingredients come together. Finish by hand with a rubber spatula or a blue scraper.
Shape the dough into a log and wrap tightly with plastic cling wrap. Freeze overnight.
Preheat oven to 120 C.
Using a grater, grate frozen dough log onto a parchment lined sheet tray. Ensure crumble is evenly spread across the tray. Bake for 12 minutes.
Rhubarb Rose Gel Ingredients
250g sugar
250g water
500g rhubarb, chopped into 1 inch pieces
5g Agar Agar
As needed, Wild Rose Infused Sugar
Rhubarb Rose Gel Method
In a sauce pan, bring sugar and water to rolling boil. Add rhubarb pieces. Turn off and remove from heat. Leave rhubarb in syrup as it cools.
Once cooled, strain rhubarb and reserve liquid. Blend rhubarb together to make a smooth puree, adding any syrup as needed.
Place puree to a sauce pan and turn to medium heat. Add wild rose infused sugar 1 tbsp at a time until desired flavor is achieved.
Bring mix to boil and add agar. Allow to boil for two minutes to activate agar while whisking constantly. Pour into a dish and allow to completely set in the fridge.
Once set, blend the gel together until smooth consistency is achieved.
Explore the Wines you Tasted
Explore our carefully-curated selection of wines featured during your Taste of the Terrace demonstration, with each one thoughtfully paired with each dish to enhance the experience.