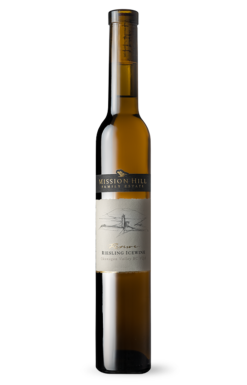 2016 Reserve Riesling Ice Wine
Our Reserve Riesling Icewine has bright aromas of vanilla and citrus fruit, with flavours of ripe pear, pineapple and hints of orange peel. The sweetness is offset by mouth-watering acidity. A definite treat for the senses.
Product details
Icewine is a labour of love. One has to be patient to wait for the grapes on the vine, and then pick the grapes in below freezing temperatures in the early hours of the morning to ensure they are at their optimum. Our 2016 Reserve Riesling Icewine was sourced from two of our estate vineyards in Kelowna and across the Black Sage Bench in Oliver. Our Black Sage Bench vineyard is diverse, with more than 60 different individual blocks affording us an amazing array of premium quality fruit. The Kelowna vineyard, perched on the brow of Mt. Bourcherie, an inactive volcano, has steep hills and stunning views of the Okanagan Lake.
The 2016 harvest lasted 76 days and set records for being our longest harvest ever on record. The weather was 'optimal' with an early start to the season. April and May were warmer than average and bud break was three weeks early. The lack of heat waves in the summer kept sugar levels and phenolic maturity in sync so that ripening progressed slowly and predictably. The berries were firm and had perfectly healthy skins and therefore vivid, deep flavours, great acidity and excellent freshness. The harvest concluded on November 9th, marking an exceptional Okanagan vintage, and producing stunning wines for the 2016 vintage.
Varietal | 100% Riesling
Appelation | Okanagan Valley BC VQA
Estate | Oliver (57%), Kelowna (43%)
Harvested | December 8 and 14, 2016
Maturation | 10% fermented in neutral French oak
Sugar at Harvest | 42.0° Brix
Residual Sugar | 260 g/L
ABV | 8.5%
TA | 11.0 g/L
PH | 3.16
Download product profile
FAQs
We offer complimentary shipping across Canada, however we do not to ship to Nunavut or the Northwest Territories.
Our wines are delivered by our courier partner, ATS Healthcare, in a temperature controlled environment to ensure the highest quality product when it arrives to your door.
Our wine orders can be picked-up at the winery. We have a no-touch pick-up area at the entrance of the winery.